Hey guys, I am selling my sidekick 3.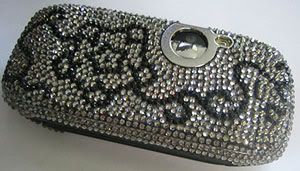 It's almost brand new and is in 100% perfect condition. There's not a single scratch on it any where. I bought a nice screen protector for it the day I got it so the screen hasn't even been touched. You can take the screen protector off if you'd like.
It has NEVER ever been dropped and has been very well taken care of.
I've used it for txt messaging only so it has never been used as a phone.
Everything works great.
I have my own business covering phones in crystals so it is my own design. They are size 9 swarovski crystals (much smaller than most people use). I charge between $500+ to cover a sidekick in crystals, depending on the colors, size and design.
It takes me 20+ hours to do one phone because I make sure all the crystals are placed directly next to each other (NO spaces like other people do on sidekicks).
I am selling this sidekick for $700 which is way cheaper than buying the phone and having it covered in crystals yourself.
They are going for $700+ on ebay and don't look nearly as good as mine, if I do say so myself ;) (Ex: http://tinyurl.com/2nsto6).
That includes shipping, USB cable for your computer, car charger, wall charger, 64mb SD card, AND I'll even toss in a cute cell phone charm that I made out of swarovski beads to match the colors on the sidekick.
This has been X posted big time, sorry if you've seen this more than once :(.
If you're interested, I will take better pictures for you.